Podcast: Play in new window | Download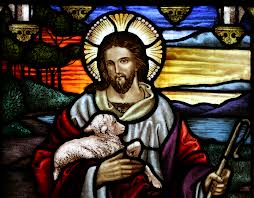 The songsheet / songbook will be made available soon.
WHEN THE LOVING SHEPHERD / I'LL GO WHERE YOU WANT ME TO GO

"When the Loving Shepherd"
Adapted by St. Alfonso M. de Liguori
Written by Edmund Vaughan, 1827-1906
"I'll Go Where You Want Me To Go"
Charles H. Gabriel
Carrie E. Rounsefell
When the loving Shpeherd, Ere He left the earth
Shed, to pay our ransom, Blood of priceless worth,
These His lambs so cherished, Purchased for His own
He would not abandon In the world alone,
In the world alone.
Here, He makes us partners Of His realm on high
Happy and immortal With Him in the sky
Love immense, stupendous Makes Him here below
Parner of our exile, In the world of woe
In the world of woe
I'll go where You want me to go, dear Lord
O'er mountain or plain or sea
I'll say what You want me to say, dear Lord
I'll be what You want me to be.

Soon, I hope to see You And enjoy Your love
Face to face sseet Jesus, In Your heav'n above
But on earth an exile, My delight shall be
Ever to be near You Veiled for love of me
Veiled for love of me
Both songs Public Domain
CHRIST THE LORD IS MY TRUE SHEPHERD
Sir Richard Runciman Terry
Christ the Lord is my true Shepherd
He doth rule me, He doth guide
Nothing can I lack if near Him
Constant I abide.
Where the verdant pasture springeth
Where the living waters flow
There His tender love has set me
On this earth below.
For His Name's sake He has led me
In the paths of truth and right
And my drooping soul sustained
By His holy might.
Tho I walk through death's dark valley
Yet no evil shall I fear
Powers of darkness have no terrors
Christ my Lord is near.
Where the wicked sore afflict me
He a table doth prepare
Furnished well with food celestial
By His bounteous care.
He with oil my head anointeth
In the midst of all my foes
And my cup with sweetness filleth
Till it overflows
So throughout life's toilsome journey
Shall His mercy follow me
Till at length in radiant glory
I my Lord shall see.
Bliss supreme, O bliss supernal
Then to see Him and adore
In His Heav'nly radiant glory
Blest for evermore.
Public Domain
SAVIOR LIKE A SHEPHERD LEAD US

attr. to Dorothy A. Thrupp,
William B. Bradbury
Savior like a shepherd lead us
Much we need Your tender care;
In Your pleasant pastures feed us
For our use Your folds prepare:
Blessed Jesus, blessed Jesus
You have bought us, Yours we are;
Blessed Jesus, blessed Jesus
You have bought us, Yours we are;
Early let us seek Your favor;
Early let us do Your will
Blessed Lord and only Savior
With Your love our bosoms fill:
Blessed Jesus, blessed Jesus
You have loved us, love us still
Blessed Jesus, blessed Jesus
You have loved us, love us still.
Public Domain
MY SHEPHERD WILL SUPPLY MY NEED
From "Southern Harmony"
My Shepherd will supply my need
Jehovah is His name;
In pastures fresh He makes me feed
Beside the living stream.
He brings my wand'ring spirit back
When I forsake His ways,
And leads me for His mercy's sake,
In paths of truth and grace.
When I walk thro the shades of death,
Your presence is my stay;
One word of Your supporting breath,
Drives all my fears away.
Your hand, in sight of all my foes
Doth still my table spread;
My cup with blessings overflows
Your oil anoints my head.
The sure provisions of my God,
Attend me all my days
O may Your house be my abode,
And all my work be praise!
There would I find a settled rest
While others go and come
No more a stranger, nor a guest;
But like a child at home.
Public Domain
TU MANDASTI (Gregorian Chant)
English translation by Nick Alexander
Tu mandasti manda tuia
Custodiri nimis
Utinam d rigantur
viae meae
ad custodi endas justificationes tuas.
You have laid down the laws which You've made
To be guarded with care.
O, would I be resolute in ways that I go
To fully be safeguarding
the complete roster of statutes
You have given.
THE LORD IS NEAR / IF YOU ABIDE IN ME

The Lord is near
The Lord is near
Near to all who call upon Him
"If You abide in me
And My words abide in you,
You shall ask what you will
And it will be done;
if You abide in me
And My words abide in you,
You shall ask what you will
And it shall be done;
SHEPHERD OF SOULS (GOOD SHEPHERD)
ST AGNES (p.D.)
v. 1&2 J. MOntgomery (1771-1854) v. 3&4 anon.
arr. and new chorus by Nick Alexander
Shepherd of souls, refresh and bless
Your chosen pilgrim flock
With manna in the widerness
With water from the rock.
We would not live by bread alone
But by Your word of grace
In strength of which we travel on
To our abiding place.
Be known to us in breaking bread
But do not then depart
Saviour abide with us, and spread
Your table in our heart.
Lord, sup with us in love divine
Your body and your blood
That living bread, that heav'nly wine
Be our immortal food.
You are our shepherd
You are our shepherd
You know Your sheep as Your own
You are our shepherd
And we, Your beloved
Declare Your goodness alone.
New version copyright (c) 2014 by Nick Alexander